| | |
| --- | --- |
| | Peter Keelan |
---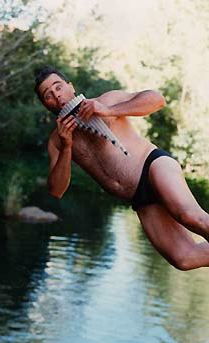 Musician and artist Peter Keelan has a wealth of experience across the arts spectrum. He has performed, composed and directed in diverse areas of music, from experimental to world fusion, to street theatre.
His principal instrument is the pan-flute though he plays a variety of other flutes, didgeridoo, berimbau, mouthbows, percussion, drums and his original 'new' musical instruments.
It is from his early pursuits in the visuals arts, as a painter and sculptor that his interest in experimental musical instrument making began. He has developed numerous original musical instruments, as well as experimenting to create an orchestra of instruments made of plumbing and electrical pipe.
As a contemporary composer and musical director he has credits in the area of film soundtracks, community music projects, music theatre, public art installation and several of his own recordings.
He has a strong interest and respect for traditional cultures from around the world. His present focus, supported by the Austalia Council for the Arts, is on those cultures where the pan flute is an active part of living culture (Romania, Solomon Islands, Bolivia and Zimbabwe/Mozambique).